Edmonton Headlines – Monday, July 9, 2018
Investigating the police
In this post:
ASIRT investigations
Traffic safety
Challening privilege
Cannabis updates
Developments and planning
The agency that independently investigates Edmonton police, and other police forces, got quite a bit of coverage in the news in the last week.
The Alberta Serious Incident Response Team (ASIRT) had a pair of reports receive stories. The first looked at what happened when Constable Daniel Woodall was killed responding to a hate crime and harassment. Cst. Woodall was shot dead when the suspect opened fire at him and other officers who had come to investigate anti-Semitic writings.
ASIRT's review of the incident finds Edmonton Police didn't do anything that contributed to the man's death. He killed himself during the standoff with police, after he shot at them.
On the other side of investigations, ASIRT found Edmonton Police officers and one RCMP officer used "grossly excessive force" in taking down a suspect after a chase. It's unusual for ASIRT to actually recommend criminal charges when it investigates police officer conduct, but the Alberta Crown Prosecution Service will not be taking up the recommendation here.
This one didn't come with a news conference but was dug up by the CBC's Janice Johnston. The CBC story about this includes video from Edmonton's police helicopter, which makes it fairly clear what happened once officers arrested the young man they had been pursuing. He wasn't resisting arrest.
"…once he begins to be beaten, they state in the reports that be began to struggle and they needed so many officers to get him under control…"
The violence of his arrest, noted as a violation of his Charter rights, was a mitigating factor in his eventual sentencing, reducing the time he could have received as punishment. There are various professional standards hearings that will take place for officers involved, now that ASIRT has concluded its investigation.
*
And ASIRT's caseload is increasing, particularly related to sexual offences and corruption.
*
Following on women taking over the RCMP detachments in St. Albert and Devon, the detachment in Leduc has a new female commanding officer too. (I had mentioned that Spruce Grove was also helmed by a woman, but that was just a mistake on my part. They do have a new top cop though.)
---
I was thinking of writing something scathing about Edmonton hosting the 2018 International Conference on Urban Traffic Safety while our own efforts to reduce deaths and serious injuries get stalled out in bureaucracy and city council inaction.
But instead I'll just point you at Tim Querengesser's own scathing take, which hits all the key points.
As Tim mentions, the City is hosting this conference blocks away from some of our worst streets for people walking, including sections where people are forced to walk in actual traffic.
Conferences like this are a lot of work. And I don't know how the City will pull it off with all the extra work of trying to keep delegates away from just about all our streets for a whole week.
I'm joking of course, as I'm sure some of the attendees will indeed find our trouble spots and call them out to Edmonton delegates. And some folks here are clearly not embarrassed (enough) by our failures to care so much as to re-direct the delgate's attention.
Ultimately, it's classic "do as I say, not as I do" for the City of Edmonton to host a conference like this when it can't improve safety at intersections and crossings it knows are dangerous, it can't decide if slower speeds will save lives and it's taken years to even come up with a "Vision Zero" plan as it touts is vision zero success.
*
Somewhat related… drivers can't seem to get the hang of new "no right turn on red" rules downtown. The answer might be to ban right turns on red in all our core neighbourhoods, treating all our busy intersections the same and eliminating all that pesky paying attention drivers are finding so difficult.
It will also be interesting to see if plans for improving safety and enjoyment of downtown and Oliver residents is complicated while the City tries to coordinate construction of the westbound LRT and Jasper Avenue fixes. This one's not easy, since construction timelines are colliding, but I hope commuter voices don't take precedence over people who live near Jasper Avenue. As mentioned in the conversation from The Yards summer salon, residents have to deal with the reality of Jasper 24/7 while commuters are only on the road a few minutes some days of the week.
---
What a glorious message would be send to our country if @EdmontonEsks changed their name. It would set a new precedent of respect.

— tanya tagaq (@tagaq) August 9, 2017
These next stories all seem pretty straightforward, and just about all fit the usual "bothsideism" approach to journalism that is so comforting to those of us with privilege in one area or another, or many areas. Thinking about these stories in broader societal ways, however, I think we can see there's a lot more going on than the headline tells us, and thinking beyond the surface details informs how and why a story is presented a certain way and how we and people we know may respond.
There's the football team's name. Very much presented in a "they said/they said" way this one comes across like "some people" think the name is racist. Well, Inuit and Indigenous peoples in Edmonton, and across the country, continually tell the team and its management just that, and the longer the team waits to change the name, the less likely it does so with any goodwill left. Considering how prevalent systemic racism is and our responsibilities after the Truth and Reconciliation Commission, the story is about more than some people complaining.
*
A sexual assault at West Edmonton Mall is another difficult one. Mostly for how this one first hit newspapers and newscasts in Edmonton last year, with an unnecessary maligning of refugees.
In the end, the case saw the charges result in a verdict of not-guilty, though nobody is disputing something happened at the waterpark, which itself is quite a change for our court system. As we should be more accustomed to seeing in the wake of #metoo, criminal charges or convictions are not the only way to prove something happened or to believe women in cases of sexual violence.
*
And the City is going to ban shisha smoking at venues primarily set-up for this cultural form of smoking. It's doubtful most of the venues will thrive after the ban.
This comes at the same time other issues were being examined at shisha bars, and at least one owner is pointing out the possible systemic racism at the heart of constant policing. It's very easy for city councillors to move ahead with this ban by saying it's simply a holdover from the general smoking bans implemented years ago, but there are still systemic issues here to be confronted. Certainly it doesn't sound like the committee voting on the ban allowed for much discussion around cultural implications.
In contrast, we are considering some of the most lenient marijuana smoking rules anywhere in the world. They may not be so lenient once city council has its final vote but there's a conflict here in how different communities of people are seen by City staff, police and city councillors.
---
Edmonton's lottery system for choosing potential retail shop locations is starting to see some folks drop off the list and consider their options, which might mean doing nothing, thinking about a different location or even a different kind of business in the location.
The Alberta Gaming, Liquor & Cannabis Commission (AGLC) has chosen its suppliers for the retail market, with a pair of Alberta companies on the list.
Devon is getting its rules set for retail cannabis, hoping regional municipalities have similar regulations. So far, Edmonton could be the outlier, allowing more public smoking. Beaumont is also waiting to see what others do.
---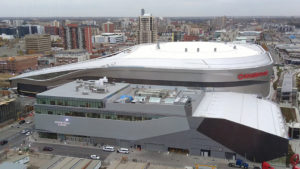 We haven't talked about property development and zoning for a couple of weeks, so let's take a look at what's going on in those spaces.
The City's got some new guidelines for infill development, which should include how to balance the costs for the first developer going into mature neighbourhoods where infrastructure needs upgrades. It's much easier for a developer to cover these costs in a new, suburban, neighbourhood when they're going to be selling plenty of homes. It just doesn't work when someone wants to build a couple of new homes in an older community.
On the topic of the suburbs, should we consider an urban growth boundary?
Some neighbours know that instead of waiting for city council to finally reduce residential street speeds you could just do it through neighbourhood renewal. (I am a volunteer with some of this work.)
Interesting to see that St. Albert city council doesn't want to be involved in development decisions. The mayor also notes that it could be easy to influence councillors.
*
Oilers' owner Daryl Katz and his Katz Group are cashing out somewhat, selling a private lakeside cabin and Edmonton Tower, respectively. The Edmonon Tower deal also pockets the City of Edmonton $5M because it had an option to buy the building. Speaking of Ice District, some of the plans are being scaled back, while the Katz Group goes back to City Hall to ask for more money.
*
Save the door, tear down the building: Edmonton's new heritage preservation slogan. Actually, the building those doors come from is going to remain standing while the province looks at its heritage value.
We need to do more to protect heritage homes and buildings, or just stop with the toothless attempts to do so. We have these discussions at these moments, when a building is about to come down, but unless we change overall policies what's the point, really?
One neighbourhood is asking for something to protect all its older homes. The El Mirador may not be long for this world.
In better heritage building news, the Oliver Telephone Exchange is the latest success for Beljan, a company that seems to have a knack for doing something with older buildings. On the other side of downtown Edmonton, the Brighton Block is also finding new life.
*
There's a project in Holyrood that doesn't seem to be winning many people over. Will city council approve it anyway? This is one to watch this week. (Just passed unanimously at city council as I post this item!)
The old Enbridge Tower is going to be converted to a hotel. Capital Care Norwood is expanding. Two towers are proposed for 104 Street at 100 Avenue. And maybe another one coming one block over, at the long-empty site of the old Arlington Apartments.
Strathcona County just got a little taller. There's also quite a bit of work to build more seniors housing.
The Coliseum just won't die. The Katz Group/Oilers tried to kill it. City council tried to kill it. But it's not dead yet.
Why, yes - we do have a newsletter you can sign up for.
Subscribe