Edmonton Headlines – Monday, June 25, 2018
Carding report arrives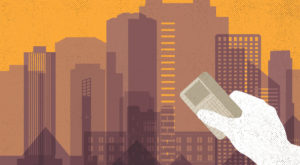 Any day now, the Edmonton Police Commission should make a report on carding public.
The review of the police practice – when officers collect and record personal information on people they've stopped on the street – is a few months late, but was formally accepted by the Commission last week. It's supposed to be made public this week. The problem with these "street checks", other than obvious questions around privacy, is that they have been shown to target Black Edmontonians and Indigenous peoples, particularly Indigenous women.
While members of the Commission got their first look at the report, Edmonton police chief Rod Knecht was asked about carding by local reporters. Last year, Edmonton police only stopped around 40 people every day to collect their personal information in order to…. well, it's not exactly clear why they do it, but they're still doing it. They did it more than 15,000 times last year. Interesting to note that the chief says some police officers are doing fewer street checks because they don't want the hassle of scrutiny from others, the media, etc. … so, I guess it's not such an important police tool after all. (Which I'm sure he didn't realize he proved in that statement and the drop in carding.)
Somewhat connected to the racial profiling of carding, an Edmonton entrepreneur is alleging police are targeting people of colour who run certain businesses. The CBC's Andrea Huncar has that story, and also how the ID scanners at bars might directly connect to carding.
A related report that's late, but also about to be released, is the Alberta government's look at racism. Going to be plenty of research-reading for the long weekend!
---
Some new stats show that more people coming to Canada are finding success in Alberta. Some of these newly successful Edmontonians just got profiled over in Avenue Magazine. One of the challenges of coming to Canada might be dealing with the idea of, and issues related to, mental health, sometimes after years of trauma.
The Africa Centre has been in the news this year because of sexual harassment allegations against its former executive director, who is now suing and says an investigation cleared him on the claims.
Leadership in business, and in general, is going to require more inclusion and inclusive practices. NorQuest College just received a million-dollar donation to help build that kind of future. (Speaking of NorQuest, the school is going to fund some scholarships and programming with bank fees from a new ATB branch on campus.)
---
It looks like Edmonton is going to have some of the most lenient rules around smoking marijuana, allowing it in more public places than a lot of other municipalities. It's supposed to strike a balance as legalization comes in, but I just want to know how soon I'll be able to drink a beer in the park to match the new bylaws.
St. Albert, however, is going the other way, with more restrictive rules. Spruce Grove has passed its new cannabis bylaw.
Edmonton has unveiled all the potential sites for retail locations, with 242 applications to open up a cannabis shop. Although, we can't see every single one of the applications, as some have opted to remain private while the City runs everyone through various checks and inspections. You can see the full list, in the order in which they were drawn in a lottery, from the City. That list makes it obvious that a lot of folks will be out of luck pretty quickly, because of how far apart the stores have to be from one another, schools, parks, libraries and hospitals. I hope the City lets folks further down the line know they won't be able to open before they shell out thousands of dollars on development permits.
If a map is more your thing, check out this one from CBC Edmonton. You can really see that the city's core neighbourhoods will be well served, while we're still not sure where more suburban locations will be. I bet we'll see those start to fill in once this first round of applications is done and all the spots on Whyte, Jasper and 124 Street are taken. We'll also have to watch if rules are eventually changed, as we're seeing with liquor stores.
A major production facility in Josephburg is finally going ahead. Probably.
---
There is a new series on class sizes worth checking out. Postmedia's Janet French investigated how (poorly) we're doing in maintaining reasonable class sizes in Alberta, a decade and billions of dollars after the problem was supposed to be tackled. It's worth spending some time on, since this may end up being a big topic of debate heading back to school in the fall, and in the election next year.
---
It took two years and the City of Edmonton couldn't come up with a single way to keep allowing people with disabilities some limited free parking. We're switching to a new camera-based enforcement this summer, and the City just couldn't think of anything that could be scanned along with license plates to help maintain the two hours of free parking people with disability placards get now. Not a sticker, or something on the license plate or registering the plates. Nope. Nothing could ever work.
"Does this mean all those photos opps with (Acessibilty Advisory Committee) members — people with tremendous competence and lived experience — are merely window dressing?" That's a damn good question asked by Cam Tait.
This will likely come up at this week's city council meeting because there are simple fixes here that, I hope, just got lost in bureaucracy.
It's time to think about banning right turns on red lights. It's a dangerous action for people crossing the street on their feet, with a mobility device or on a bike, and it would barely slow down traffic in most cases. If you're waiting for people to cross you're not actually going anywhere.
Speaking of the efficiency of our streets… we could start installing smart traffic lights this year. These are lights which could adjust traffic flow beyond rush hours and respond to what's happening in real-time.
Work is beginning on Edmonton's new bicycle transportation plan, which will most definitely include more dedicated bike infrastructure as we make Edmonton a better, and safer, place to bike and walk.
Edmonton's equivalent to "You can't make an omelette without breaking some eggs" is "You can't build a new low-floor urban LRT line without losing some trees". It's not as snappy a phrase. People are riding the LRT more in Edmonton already, so more trains are needed. Strathcona County is increasing service for its accessible transit fleet, in Sherwood Park at least.
Is 50 Street going to get an overpass or an underpass? Who cares, as long as it's a much wider road we can fill with more vehicles!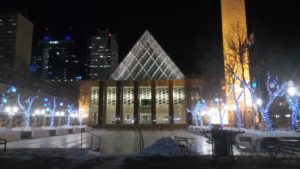 Now here's some good news. The provincial government is finally moving ahead with new rules (and restrictions) for municipal election fundraising. We obviously need to eliminate corporate and union donations, cap the amount someone can personally donate, limit how much a campaign can spend and greatly limit how much third-party or political action party (PAC) donors can contribute. We'll see where things end up in the fall or winter.
You can provide your feedback until July 31.
I also wouldn't mind if they allowed municipalities more options to increase the number of signatures needed to run. You know, to make sure folks running have an actual platform and ideas.
*
The next City budget could start at a 2% increase in spending.
Now, a lot of folks are already going around calling for cuts or asking for austerity, and I certainly hope that the operational review finds some wiggle room to help pay for roads and buses and police and libraries. But I don't know if we can just stop spending on all the things the City spends money on (certainly not enough to operate on zero percent budgets).
Maybe we can all team up and push for new ways to raise revenue though. I know that new taxing powers slipped through our fingers in that big municipal government review from the province, but clearly we can now see that property taxes alone aren't helpful enough. I don't think people are going to up and leave the city en masse, but we are going to start to hitting pressure points if we keep using property tax to fund major infrastructure like our new arena and LRT expansions and our usual spends on road and staffing.
I don't know. There's a provincial election next year, maybe we can secure a new deal or, more likely, a pile of cash if we all work together. Just complaining about property taxes feels like a no-win option.
*
For a glimpse into Edmonton's garbage future, check out the changes to waste collection happening in Strathcona County. Fort Saskatchewan is also rolling out new rules for what can be tossed where. Meanwhile, St. Albert is trying to get to zero waste.
What is up with this city council delaying reports and decisions? We're holding back on becoming a Sanctuary City, which would allow undocumented residents access to City services, including emergency services, without fear of government reprisals, at what is just about the most obvious time to make such a call. This follows on the push for 30 km/h speed limits on residential roads being delayed until next year. This is a troubling trend that's starting to emerge.
New rules for improving safety and security at body rub centres seem to be helping the industry. Though the City is challenged with inspecting and enforcing rules for businesses operating online.
There's about to be a summer byelection in Bruderheim.
And here in the city, Accidental Beach is returning as the river levels drop for summer. Watch for the new rules and cleaning and, it should go without saying, remember to not poop on or near the beach unless you find yourself sitting on an actual toilet.
Why, yes - we do have a newsletter you can sign up for.
Subscribe