Edmonton Headlines – Monday, June 18, 2018
Gondola fever
There's plenty going on in Edmonton transportation news, so let's get right to it.
We are still seriously considering gondolas — yes gondolas — as public transportation infrastructure to cross the river. As something akin to our summer streetcar, I get it. It's fun, it's different, people on either side of the river could take it a few times and ride with visitors to the city. As regular transit service?
Nope.
It would take dozens of gondolas moving pretty quickly from Old Stratcona to Rossdale to the downtown area to make up for a few buses running back and forth (which we have during peak times in the morning and afternoon now). But, whatever, we have to spend time and money researching something, I guess.
Speaking of the river, the Edmonton Queen is back! (And it's now known as the Edmonton Riverboat.)
*
Proving once again that the only people who take the idea of induced demand seriously are urbanists on Twitter, we are expanding the Anthony Henday ring road already. It has to. It must!
Nah. It's dumb that we think we can build more lanes of traffic to solve traffic jams. It's also disappointing to ruin such a good Edmoji.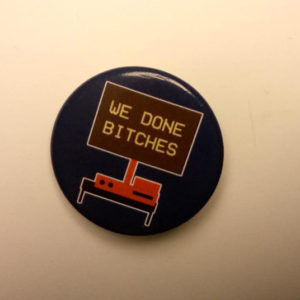 As we mentioned a couple weeks back, Edmonton's downtown bike lanes are becoming busier and busier. If only there was some kind of transportation designation for something like this, where you build more of a certain traffic option and it attracts more people, like some kind of inducement or demand.
More seriously, the lanes are doing so well after just one year "…it's not a question of if [we] expand it's really a question of when and what that looks like…"
We already know they're coming to the southside of the river. And a bikeshare and more bike parking are also soon to follow. The bike lobby is winning.
*
It looks like the good work that Queen Alexandra neighbours started is catching on. People living around 101 Avenue east of the river want improvements to their main street and they don't want to wait around forever to see it happen. They're even positioning this as a way to encourage more people to live and work in the area (both of which would likely happen). The City is going to consider this as part of the fall's budget deliberations.
I hope this finally shows that the City needs to consider all kinds of improvements as part of regular neighbourhood renewal projects, not just new pavement, and also to consider the needs of those places we're asking to increase density. If we don't make roads more enjoyable and safer, if we aren't finding ways to add and encourage more commercial infill, our infill plans will just shift where people do all their driving from.
(I'd like to see the same for bike lanes, let's just keep expanding them out from the core now without asking neighbours to do all sorts of heavy lifting.)
Lots of LRT news in the last week. We're starting to see the expropriation happen for the Valley Line West expansion, got yet another update on failures of the Metro Line, and celebrated 40 years of our light rail system.
Now that we are on the cusp of spending money to host World Cup games, we should most definitely consider duplicating our original LRT build for the 1978 Commonwealth Games with a train connection to our airport. If we're going to host a few giant soccer games, let's build a legacy (and make it easy for visitors to get into the city for the games).
Regionally, Beaumont and Strathcona County are jumping on the idea of smart cards for transit, which would make it easier to create Metro Region transit.
*
And there's an interesting conversation happening out in Strathcona County, with a pitch to expand a private airport. The airport is much busier than the County's own airfield, which appears to be more heavily subsidized. Our regional airports became much more important when Edmonton closed its city centre airstrip to make room for a new infill community.
---
Social justice
Our streets killed four times as many people who are chronically homeless as we could house last year. It's the second time in the last few years more than 100 people died on the street. Is this our new average? Meanwhile, a new audit report says the City might not be doing a great job operating housing programs, including where the money is going and building just 30% of needed affordable housing.
Back in the first link on this topic, it's mentioned that the best things we Edmontonians can do is volunteer with and donate to organizations that support the homeless. This feels like treating the symptoms, to me.
We need to do these sorts of things to be involved community members, of course, but we also have to say to our city councillors, our MLAs and our MPs that we don't want to hold another memorial for 100 people who died on our streets, and they better start funding housing programs that actually put roofs over people's heads. Otherwise, the donating and the volunteering mostly serves to make us feel good about helping, while people die.
This year is a particularly important one to push for housing money, since Edmonton is approving a four-year budget and both provincial and federal governments face elections next year. If this is important to you, reach out to your elected representatives.
Somewhat connected, there's a growing gap between rich and poor here, and minimum wage is still dollars short of what hourly wages need to be to live in Edmonton.
*
Proving that more can be done with good government funding and programming, our city's Drug Treatment Court Program continues to see successes. Working Warriors is a group helping young offenders find work, education and the skills to be part of wider community. This, as we know too many people struggle to re-integrate once they are victimized, criminalized or marginalized.
Police budgets keep going up. Court budgets keep going up. But these are the kinds of programs that spark true success, and they are so often run only as pilots or underfunded. Again, let's demand more and better from our governments, not just more jails.
*
As we see sexual violence services overwhelmed in the wake of MeToo, the Alberta government has created a new program to offer free legal advice.
It's great to see the strides we're making, but it's still troubling and frustrating to see not just the gaps that remain but the gaps that continue to leave scars and unanswered questions. A new lawsuit saying that Edmonton Police didn't fully investigate the rape of a 13-year-old girl at our largest summer carnival is definitely a case the public needs to know more about.
Fort Saskatchewan's first dedicated fundraiser for victims of domestic violence raised an impressive amount up in that city
If you're also a straight, white person I wrote a thing about the Pride protests for us to think about.
Either way, you have likely heard that the parade was blocked by protestors from QTBIPOC communities and it will mean changes for police and military involvement in the parade march itself.
Speaking of Pride… there's a new group to connect people of colour, particular those who are Muslim, who may not be brought up in a world that is always welcoming or which reflects their experience. Strathcona County has raised its first-ever Pride flag. The dinosaur got all the early headlines, but the big change for our driver's licences is being able to mark X for gender. Alberta Health Service is working to improve the experiences of people from gender minority communities in the health system.
---
Indigenous Peoples Day
This Thursday is Indigenous Peoples Day, which is the central gathering during National Indigenous History Month. Edmonton's main celebration is at Victoria Park, in the river valley, and will include arts, cultural and interactive experiences, food and concerts featuring First Nations, Metis and Inuit communities, artists, performers and entrepreneurs. Much like Heritage Fest, you can't drive into the park, so if you need a ride catch ETS from ReMax Field or Coliseum Station.
If you're downtown Thursday, the Art Gallery of Alberta has free admission all day, and its Art for Lunch will be looking at LandMark, which features Indigenous artists. LandMark will be at the AGA until November. You can also watch Indigenous cinema through the NFB all the time.
In the fall, a national Indigenous cultural celebration will be hosted here on Treaty 6. And one of the largest renovations and expansions coming to Fort Edmonton Park is the new Indigenous cultural attractions.
*
This Indigenous Peoples Day comes three years after the 94 calls to action as part of the Truth and Reconciliation Commission. There are many steps left in the journey to reconciliation.
Police forces in Alberta struggle to hire and retain Indigenous officers. An Edmonton-area MP won't even talk to his local newspaper about a disrespectful and disgusting act.
Here's a frustratingly sad game to play, watch which Edmonton newsrooms touting local award-winning Inuk author Norma Dunning also use our CFL football team's name, of which she has also written about. I spotted Global, Postmedia and CBC highlighting her book win. And I bet they'll all keep using the football team's name, even though it's kinda racist.
Another Indigenous author with local connections just picked up one of the biggest poetry prizes around. Billy-Ray Belcourt is a U of A student who was also recently in the news for receiving a Rhodes Scholarship.
*
And finally, here's an interesting perspective on the Michel First Nation, which was just outside of Edmonton but "enfranchised" and no longer exists in geography.
Why, yes - we do have a newsletter you can sign up for.
Subscribe