Edmonton Headlines: Tuesday, April 24, 2018
Still on speed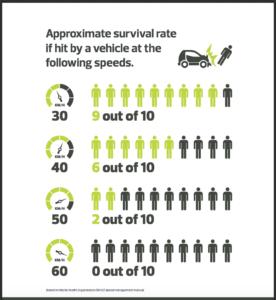 We're starting our look at what's in Edmonton news the same place we did last week, with a potential reduction in neighbourhood speed limits.
The discussion will be happening at the city council meeting Tuesday (and/or Wednesday), without a recommendation from the committee which looked at the issue last week. Councillors there did seem to be in favour of reducing speed limits on residential streets, but ran out of time before being able to vote on anything in particular. So this one is all on city council.
Along with potential changes to speeds on residential streets we could see reduced limits on collector roads, maybe some changes on our arterials and – this one starts to feel obvious when you think about some of the bigger streets near your home – perhaps some new classifications of our roads, so that a busy, pedestrian-oriented collector road (or even an arterial) isn't 50 or 60 km/h when they should be slower. Lots of discussion yet to come!
Update: City council didn't change the speed limits, they're going to keep studying this for another year. So, I guess you've got time to write your councillor about this.
*
Edmonton's LRT just celebrated 40 years of operating in Edmonton. It wasn't connected but it did time out that the Valley Line Southeast* broke through to the river valley at the same time.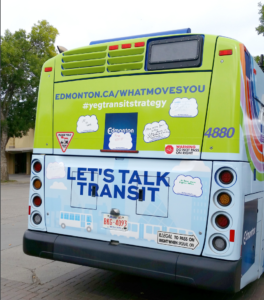 We're going to start seeing some electric buses added to the ETS fleet soon. The bus to the airport is $5 again. Also at this week's city council meeting, there will be a request to look at adding bus service to Enoch Cree Nation.
Both the Enoch bus request and the potential arrival of carshare company Lyft were telegraphed in the mayor's new lobbyist registry. We should probably check to see who's been meeting with the mayor recently…
(And maybe city councillors will have to log their lobbying meetings once new ethics rules are put in place.)
*
I thought that as Edmonton added bike lanes, and took such good care of them during the winter, we'd soon see our greatest transportation problem exposed. We are terrible at sidewalk snow removal.
We're so bad that more people got ticketed for not shoveling their sidewalks this winter. And things haven't been easy through the fast melt either, with plenty of sidewalk flooding. Even on our newer installations and replacements.
This is going to be one we'll need to revisit before next winter. We have to make it easier for people walking around, and using wheelchairs and mobility devices, to get around safely.
*
As a sign of the changing transportation times, one of the last big auto dealers on our main streets is moving out of the core. For the Oliver neighbourhood, of course, it now means waiting to see what might take its place in our (more) walkable city centre.
---
State of the Metro Region

There was a bit of a running theme in surrounding municipalities this spring, so here are some stories from outside the Henday.
We recently saw updates on how things are going, and where things are going, in Strathcona County, Sturgeon County, St. Albert, Parkland County and Devon. Check out these "State of the…" addresses and strategic plans to get a better sense of what's happening (literally) around Edmonton.
Farmland and annexation are always key issues around the Metro Region, and they were part of the update from north and east of Edmonton, with advice from one municipality to a couple of others. We are just in the midst of a pair of annexations in Leduc County, with Edmonton grabbing a bunch of land and Beaumont after a smaller slice. Fort Saskatchewan and Strathcona County may also have some land talks coming up (which might not be totally amicable).
*
Edmonton's longest-serving city councillor has died. He'll be remembered for a lot of things, but Ron Hayter definitely had an impact in Edmonton sports.
Strathcona County is working on ways to remember a councillor who died just before the election last year.
---
Edmonton's new industry
Another running theme we keep returning to here, and in our newsletter, is all the stories related to the burgeoning marijuana industry in Edmonton and the Metro Region. The stories are coming fast and furious now with municipalities getting their bylaws in place for legalization, even though there are still a lot of questions unanswered.
Edmonton is moving forward with its plans for shops in the city, while wondering how it will recover costs from the provincial government. All these plans and rules and enforcement are one of the biggest reasons taxes are going up this year.
Fort Saskatchewan's got a marijuana plan. Spruce Grove has started its work for new rules. St. Albert is also moving ahead with regulations.
While municipal governments work to set rules for this new industry, Edmonton is seeing a lot of investment on the growing side, like A LOT. The Metro Region could even become one of the hubs of this new industry in Canada, which means a lot of potential jobs and investment for local economies.
Oh, and once legalization hits, you might see some Second Cup coffee shops converted to marijuana shops.
*
Of course, all this economic booming also means we've got a lot of people with criminal convictions for something we're now saying is legal. And enforcement of marijuana crimes has disproportionately affected people of colour and Indigenous peoples. We should really clear some criminal records once legalization is the law of the land.
Vice has a look at how Edmonton Police, and other forces around the country, have managed to under-arrest white people for these crimes. "So our client base happens to be Aboriginal not because they commit the most crimes, but because they are over-represented."
---
Law and order
Talking about police targeting people of colour and Indigenous peoples seems like a good segue into stories related to justice. (We're still waiting on the carding review to become public too…)
"People who have not been found guilty of a crime now make up more than 64 per cent of Alberta's provincial inmate population…"
That quote comes from a look at Edmonton's new remand centre. It holds people who are yet to be convicted on crimes they're appearing for, and its booming population is creating problems between guards and inmates.
Alberta has its first female First Nations judge. We also have our first South Asian judge, the first-ever South Asian women to sit on an appeal court anywhere in Canada.
Police chief Rod Knect says he's working on a contract extension with the Edmonton Police Commission and expects more official word on extending his term soon.
Use of force by Edmonton Transit peace officers is up. The City and Edmonton Transit Service weren't forthcoming with that information, but Postmedia's Jonny Wakefield has the story. (This comes two months after a video showing peace officers roughly handling a teen boy became public.)
Wakefield's also got the story on Alberta's quadrupling of private security guards over the last decade. It's an important issue since the trend doesn't appear to be waning, especially as the marijuana industry looks to add lots of security jobs. Also important is the lack of information on use-of-force by security guards in Alberta and, similar to transit peace officers, questions are raised on oversight, training and how much is publicly known about these policing actions and enforcement.
(ICYMI: Edmonton Police reported an increase of use-of-force by its officers last year too.)
---
This post was updated on Wednesday, April 25, 2018. We also corrected the Valley Line LRT direction to southeast.
Why, yes - we do have a newsletter you can sign up for.
Subscribe