Edmonton Headlines: Thursday, February 22, 2018
Stories to pay attention to
I know, there's nothing better than content creators continually changing formats and publishing schedules. I'm going to blame the long weekend?
In reality, I'm working to figure out the best use of EQ's resources (read: my multi-tasking self) and probably going to bounce around a few different kinds of posts and ideas over the next little while. I hope you'll stick with us though! Our contextual looks at Edmonton news and issues aren't going anywhere. And we've got a few feature stories coming for the start of March too.
Now, here are a few stories I think are worth your time as we wind down this short week.
Edmonton's had a few different events in the wake of the acquittal of Colten Boushie's killer, including a rally as part of national action, and another with Boushie's cousin in attendance. This is part of national outcry over the court decision, and the systemic racism is exposes.
In related issues… Edmonton actually saw an earlier challenge to jury selection, which ultimately failed.
Edmonton's CFL season-ticket holders are being asked what they think about changing the team's name. Not to say the country is watching for the results, but it would probably be nice not to be forced to eventually do the right thing.
We asked Edmontonians to offer up some options for the team to consider once owners want to hear the request of Inuit and Indigenous peoples.
That Valley Line West underpass is a terrible idea, says just about everyone. It's a bad idea because it defeats the purpose of creating more walkable and visitable neighbourhoods along the LRT line.
As part of mass transit planning the City is exploring how easy it is for people in older suburbs to get through the community to the LRT. It's not really that easy in some of our mature neighbourhoods, which will have to change to encourage more transit ridership.
In "smart" transportation news, we're on our way to finally getting smart fare cards, and traffic lights which could move traffic better depending on real-time conditions (that's the biggest problem with some of our at-grade LRT crossings now, let alone many of our regular intersections).
*
Edmonton's recent recreation centres are massive multiplexes that draw from all across areas of the city they're in. Is that how we're going to keep building them?
Downtown is getting new parks and now it's getting a playground, thanks to a fundraiser spearheaded by a police officer who's been walking the neighbourhood's streets and noticed a lack of public places for families to visit.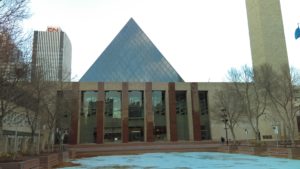 In local government…
The combative sports moratorium is likely over, even though it could have lasted the whole year. This was put in place when a fighter died after a boxing match and a review found Edmonton's processes and organization of such events was in need of many changes. There's been a lot of pressure from the fight community to get this overturned quickly though.
The City is still trying to figure out how to build something to let us all "Touch the Water" along the North Saskatchewan, on the downtown side of the river valley. Along with new options to create a pathway from Rossdale to Government House Park, there's going to be consultation on development in the river valley in general.
Edmonton's outdoor pools might be free, forever. This would be fantastic news for summers.
The mayor's launched a lobbyist registry for people meeting with him and his office staff. It's voluntary, so it's going to be up to city councillors to decide if they want to do something similar. Obviously, they should.
Mill Creek Ravine is getting a new house, even though a lot of people argued that it should not have been approved.
Fort Saskatchewan is changing how they send out water bills after some big bills landed in people's mailboxes and it created pushback.
The Edmonton Public School Board is asking the Alberta government to eliminate funding for private schools. This is back in the news as we head into the provincial budget coming in the spring.
*
And a local hero has returned to work after a health crisis, but only because his bills are piling up. If you're in the neighbourhood you should stop in and grab a donair or some fries, and definitely buy one of the shop's new meal tokens to give a meal to someone who can't pay.
Why, yes - we do have a newsletter you can sign up for.
Subscribe