Black History Month 2018
Events in Edmonton
It's only the second year that Alberta has officially recognized Black History Month, so it's still very much worth detailing lots of the events going on to celebrate the people and history here.
The National Black Coalition of Canada has a great listing of what's happening in the city (and its own events). These include: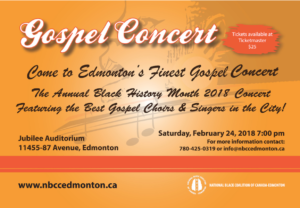 The Carrot Community Arts Coffeehouse is also hosting a number of Black History Month events through the month, with lots of music and culture featured.
And the John Humphrey Centre for Peace and Human Rights and Shiloh Baptist Church (western Canada's first Black Baptist church) are hosting an event connected to the Centre's Paint the Rails collaboration with Edmonton Transit, which highlights the stories of our city's diverse communities. This one is on February 22.
Metro Cinema has a Black History Month screening series with movies throughout the month, including Get Out on February 13, In The Heat of the Night February 25 and Whose Streets? about the Ferguson uprising and killing of Michael Brown on February 10.
The Council of Canadians of African and Caribbean Heritage is back with AfroQuiz, a Jeopardy-style quiz show for students, on February 24. (We're sponsors as well as big fans of this educational event.)
The Chinook Series has an entire stream called Black Arts Matter, which is a multidisciplinary festival dedicated to celebrating and serving Edmonton's Black artists. Events run February 8 – 18.
African Fashion Week returns, highlighting African and Caribbean inspired fashion and designers. Their big event is happening Saturday, February 17.
There's also Motown The Musical at the Jubilee, February 13 – 18, and Black Panther comes out in movie theatres February 16. (It was awesome to see the community respond immediately to the request to send Black youth to see the movie.)
*
Last year the University of Alberta posted an informative article on why Black History Month may still not be very visible here, even though so many people played an important role in our history. It's still relevant for white folks like me who probably never learned any of this history and culture.
---
This post was updated February 8, and again on February 13 when we added the African Fashion Week event.
Why, yes - we do have a newsletter you can sign up for.
Subscribe