Edmonton Headlines: Friday, August 4, 2017
We like walking
I am going to do my best to avoid walking, feet and shoe puns as we discuss a new app coming out of the University of Alberta. But I promise nothing.
U of A researchers are working on what sounds like the greatest walking app of all time. They're hoping to map areas of cities, built from the viewpoint of someone walking the streets.
(Quick note: When we talk about walking, we're including all forms of travel on sidewalks and without a car or bicycle, including someone using a wheelchair or other mobility devices. In fact, our most vulnerable road users are exactly who we should be thinking about when we block sidewalks or they just end abruptly and leave people stranded.)
So far the team has done a lot of work on Edmonton's downtown, some work around the university's main campus, Whyte Avenue and central parts of the river valley. They hope to keep expanding this, and would also like to map other cities as they build up the platform.
This kind of work is important, since everyone is a pedestrian at some point in their travels. Even if you drive to work every day, drive to the store, drive to events and entertainment, drive everywhere, you're on your feet at some point in those trips and can benefit from good walking infrastructure and planning.
If the app can include more real-time information on barriers and construction, crossing lights that take too long, or the quickest route somewhere, it could also be helpful to people working at the City to alter construction set-ups or put some work into studying why getting around a neighbourhood is or isn't working. It's exactly the kind of lived experience that could better inform planning decisions.
Edmonton's got some real problems with sidewalks that constantly get blocked. Not just for roadwork or emergency street repairs either. We've been pretty lax about letting construction crews block the sidewalk while they work instead of taking up space in the road and/or covering the sidewalk and allowing people to keep using it. It is something the mayor has pushed for some changes on and, hopefully, we'll see some changes next year.
Alright, if all that isn't enough walking talk for you, you can check out what neighbours in Queen Alexandra did to help improve their community's main streets in our spring feature story.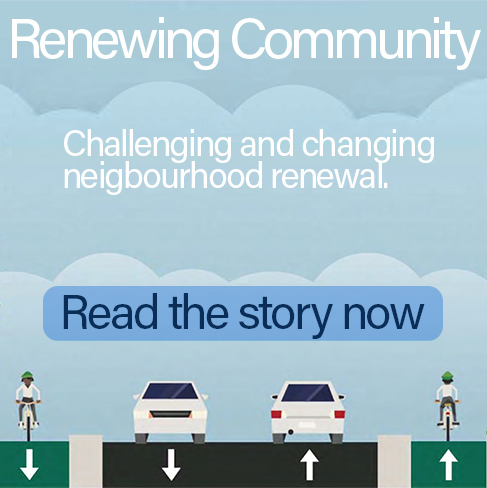 You can also get lots of great walking stories, places and businesses to check out in our most walkable neighbourhoods, and profiles of Edmontonians who enjoy a good walk at the Walkable Edmonton website.
And there's local journalist Tim Queressenger's new podcast, Walkcast, which is about seeing the city from street level. (He's also worth a follow on Twitter, since these are the kinds of urbanist topics he's often talking about.)
Hey, no walking puns!
---
Around the city
Following up on the latest Census 2016 data, Edmonton's voice is changing, with about one in three people speaking something other than English or French as a first language. Edmonton actually lead the country with the fastest-growing number of people speaking more languages.
As the economy continues to improve we'll probably see more stories like this one, about a local business finding a new way forward without being completely tied to the oil and gas industries.
Oh, did you think that we were done talking about the washrooms at Rogers Place? YOU WERE WRONG!
We're learning more about that well-preserved dinosaur that made big headlines when National Geographic unveiled photos and video of it back in the spring. The dinosaur has also been named for the museum technician who's spent thousands of hours chipping away at rock and revealing the fossils hidden for more than 100 million years.
Hey, if you're going to the Heritage Festival this long weekend, remember to bring some food donations for the Edmonton Food Bank. Or bring some extra cash for them. Or at least drop off your unused food tickets before you leave. This weekend is a big deal for Edmonton's food bank. (Also, totally enjoy Heritage Fest too!)
Speaking of the long weekend, let's talk about beer.
You will soon be able to pick up craft beer and alcohol at farmers markets, artisans markets, big craft fairs, night markets – all of it everywhere. If you prefer to just enjoy your beer at the pub, drive south to Leduc (with a designated driver, of course), or make a stop when you're next flying out of town, and check out Canada's first self-serve beer wall. Let me repeat: a wall of beer.
---
Vacation alert: Headlines will be hitting the beach next week (August 7-11).
EQ will still be around though, and sharing some of the Edmonton stories we think are interesting. So make sure you're following us on Twitter, like us on Facebook, sign up for our newsletter or, if you're a super-fan, all three.
Why, yes - we do have a newsletter you can sign up for.
Subscribe