Edmonton Headlines: Friday, June 9, 2017
Playgrounds getting new speed limits
Edmonton city councillors have a need to talk about speed this week. After discussing the possibilities of reducing speed limits in any and all neighbourhoods, a different committee of council was talking about speed limits around playgrounds (and sports fields and places where children and people are playing and active). While we have to wait and see what happens with speed limits on residential streets, we are definitely getting reductions around playgrounds, at least during the day or for most of the day.
So, by the end of the year we'll have 30 km/h speed limits most of the day, most days of the week around elementary schools, junior highs, playgrounds and sports fields. This will require new signage, community education campaigns and special enforcement.
I mean, at that point, it actually starts to make more sense to just make it 30 km/h in all neighbourhoods all of the time!
We have to look no further than today's news to see why reduced speed limits, and many other road design changes, are important.
---
Pride weekend
Edmonton's Pride Festival is officially underway in our city! The big party is Saturday, with the parade up Whyte Avenue and party in the park at the top of the river valley.
Students from an Edmonton Catholic school who had to remove their Pride decorations were welcomed by the Alberta government to to raise the Pride flag at the Legislature. One of the students may also be walking in the Pride parade with mayor Don Iveson. It's great to see the students getting recognition for standing up for their rights, and for more inclusion of LGBTQ youth.
Speaking of the Alberta Legislature, the leaders of two (become one) provincial right wing parties just happen to have plans that will keep them far away from Pride celebrations.
---
Around the city
The new Walterdale Bridge might finally open in September. Probably. Maybe. The City's not saying it will definitely open, just that it's expected to open. Only two years behind schedule! It should still be on budget though, because the contractor is paying $17,000/day to cover cost overruns.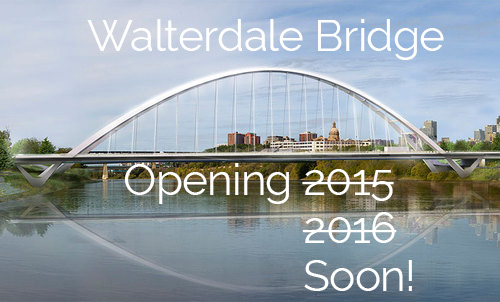 In northeast Edmonton a landmark will be closing its doors at the end of this month. The Transit Hotel announced an abrupt end to more than a century of beers and hospitality. No word on whether the iconic building will be preserved or protected for historic value.
It's been a bad year for oil spills in Strathcona County so far, with more than one-million litres of oil spilled in three different incidents east of Edmonton. that's got people asking if things are out of the ordinary. Although, we did hear earlier this year that a lot of Alberta's oil spill numbers are being called into question.
City staff are going to start providing regular updates on opioid overdoses. But staff outside of emergency responders won't be getting naxalone for cases where they happen upon someone who could be overdosing. While every bit could help, 71% of overdose deaths are outside of the city core, with a lot of them happening in people's homes and city staff wouldn't be able to help there.
"The largest charitable gift to a community foundation in Canadian history" is right here in Edmonton. And it had been anonymous for many years.
If you want to play around with some data visualization of Edmonton property assessments, and of course you do, there's a new tool for that.
---
Public engagement
The Utility Committee meets today, beginning at 9:30 a.m. You can see the agenda online. The meeting will also stream live from the River Valley Room. (Items include that new flood prevention plan and the latest report on how Epcor's performing.)
If you enjoyed this story, and want to see more like it, consider supporting us.
Support EQ