Edmonton Headlines: Monday, April 10, 2017
Three mature neighbourhoods fight change
Residents of a trio of east Edmonton neighbourhoods, collectively known as Greater Hardisty, are considering restricting what could be built in their communities for at least the next decade (if not much longer).
Called a restrictive covenant, home owners who sign on will be saying no to townhomes, duplexes, apartment buildings, home-based businesses (that aren't just someone sitting alone in their home office) and any number of potential development options that evolve over time. The reason? Well, they don't want to see their neighbourhoods of single family homes change. At all. So, short-term selfishness.
In reality, it likely means little will change if lots of people living in Capilano, Fulton Place and Gold Bar sign on to this very legal and very restrictive document. The people living there now will get to keep their single family homes with small yards, but who knows if anyone will end up buying their homes when they sell.
And forget about infill that brings more people to some of these lots. Without the ability to split larger lots or build a multi-family building over two or more lots, the pressure will increase even more on other older neighbourhoods to take on tall towers to help Edmonton achieve density targets. And it will force more people to move to newer suburbs to afford a home. All for a few more years without a townhome or apartment building nearby.
This is obviously an important decision because it could hamper efforts to fill-in Edmonton's "missing middle" neighbourhoods that just aren't dense enough for a modern, growing city. (The inner part of this donut metaphor being core neighbourhoods that are seeing larger apartment buildings going in or proposed, and the outer layer being new suburbs that are being more densely built than neighbourhoods from the middle of last century.) It's also worth watching because if more Edmontonians think this is their answer to some short-term construction disruption, or a potentially bad bit of infill on their block, the whole idea of keeping Edmonton from annexing more land just to meet population needs will slowly fall apart and we'll sprawl out even more.
And sprawl costs us a lot more than filling in our existing neighbourhoods.
---
Around the city
City council begins to seriously consider what to do with our two public convention centres this week. It all starts in secret though. With Northlands' future up in the air (also up for discussion at city council this week) plans for running the Expo Centre, and how it might better connect to the Shaw Conference Centre, make perfect sense. They shouldn't be funded or bankrolled by the City and then compete with each other.
The Edmonton Public Library continues to expand its Indigenous programming, announcing Elder Wilson Bearhead as its first elder in residence.
MacEwan University is finishing up its new downtown arts centre as the school year finishes. This is part of the school's amalgamation of programming at its central campus. The old west-end arts complex is now accepting applications from non-profit groups looking for space.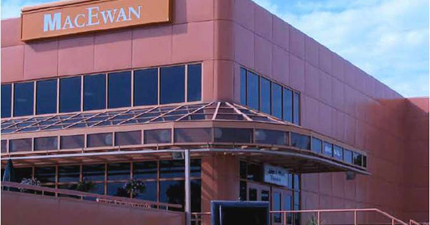 Business news
Edmonton grocery delivery service The Organic Box is expanding. It's got its sites set on all of Alberta and entry to British Columbia. Agri-businesses like this are becoming a larger part of Edmonton's economy.
A new trade deal between Canada's provinces should mean more money and more jobs for people living here (and more deals out-of-province for Alberta businesses). While companies from out-of-province can still bid on work in Alberta, they'll be more likely to land contracts if they hire locals. But the premiers just can't seem to agree on letting booze flow freely across provincial boundaries.
---
Public engagement
Edmonton City Council meets today, beginning at 1:30 p.m. You can see the agenda online. You can also watch or listen to the meeting live.
Why, yes - we do have a newsletter you can sign up for.
Subscribe