Edmonton Headlines: Monday, August 21, 2017
Carding and Football (again)
It's Monday, so let's start a bit slowly before we jump right into all the racism. But we're still starting with similarly-themed stories.
The City of Edmonton celebrated the anniversary of the signing of Treaty 6 just before the weekend. Edmonton is positioning itself as a city of reconciliation, so this event is becoming more of a big event each summer.
While we've already mentioned that elder Taz Bouchier has jumped into the race for mayor, it's worth taking in another story on her campaign from APTN.
It wasn't connected to the anti-racism rallies that happened over the weekend but the annual Hate to Hope rally certainly lives in a lot of the same spaces. It saw a couple hundred people turn out to the Alberta Legislature on Saturday evening, and you can keep donating to the Mustard Seed on the rally's behalf the rest of this month.
The #H82HOPE Walk-Rally begins!
Text HOPE to 30333 to donate funds to The Mustard Seed's @MosaicCentre. #ableg #yeg pic.twitter.com/hhgtZsQ5wW

— The Mustard Seed YEG (@mustardseedyeg) August 20, 2017
Coming up on Wednesday at the Art Gallery of Alberta, the Justice 4 Reel film festival is back, with movies that are about social justice and human rights.
---
Are police sharing carding info?
Edmonton police might be sharing information they collect from "carding" – when they stop people without any connection to a crime and gather their personal information – with other policing agencies like the RCMP and Canada Border Services. We don't know though, since there doesn't appear to be an EPS policy about whether or how to do that, and the police service won't release information to show what it has shared (if anything) unless someone pays for a freedom of information request.
"EPS also said in its response that the group would have to pay a fee to obtain information on whether street-check information has been shared with outside agencies."
This is a problem because Ontario police forces do share information they gathered from law-abiding citizens with other law enforcement agencies, and, as we're all learning through this process, that just because you are "known to police" doesn't mean you've ever done anything wrong.
(We've been tracking all of the carding stories this summer. You can find out what's been happening since police data on the practice was released at the end of June in our main article.)
---
Change the name
We talked about changing the name of Edmonton's football team one week ago and we're back on it today, thanks to an excellent and informative discussion in the Media Indigena podcast. The national show got into the topic in the last third of this week's episode (starts at 36:30). If you're a settler like me, I really do think listening to this discussion will be helpful in hearing why this is indeed an issue for our city.
"It's the same kind of stuff you hear around the Redskins. People defending them…"
On the show, Lakota activist and communicator Taté Walker recommended downloading a Bingo card to show how unoriginal Edmontonians are when it comes to arguments being made about the football team name (among other issues that come up on the show). Great idea, Taté!
If you find anything you have to say about the Edmonton football team on this card, that should tell you what side of the argument you're on — even if you don't think you're doing any harm.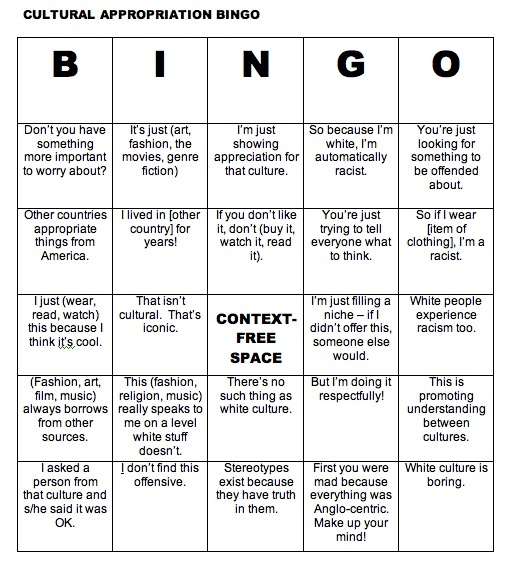 The football team's name will eventually change. If you want to help make this happen before the team (and city) are forced to do it because of racist shaming, get in touch with your city councillor or the CFL team.
---
Edmonton's surprise beach
It looks like construction on the new LRT bridge across the North Saskatchewan River has created a happy accident in a new beach. Now that it's arrived on the shores of our river, people are asking if it might be possible (and not too much work) to keep it around once the LRT is running southeast.
Or we could combine construction and the beach?

While you might not always be able to swim in every part of the river through our city, a water quality test is highlighting a few spots where it's perfectly safe and encouraged. Your best bet for actually going into the water is over by the Fort Edmonton Footbridge.
---
Around the city
Garneau's Tree is coming down on the University of Alberta campus. There's hope within the Metis community that the tree itself could become parts of art or other preservations, and used to plant further trees.
There appears to be some progress in reclamation of oilsands mines, with a new wetland being touted as a success story.
An update on a story we shared in previous Headlines: The Edmonton man who fled Turkey once and has been trying to get his family to Canada, has again left that country without the rest of his family, waiting on help from the Canadian government.
While the items aren't all actually "stolen", the Edmonton Public Library does have to replace about $50,000 of books, magazines, movies and even pedometers each year. Yes, some pedometers went missing. You've gotta get those daily steps in!
Here's a restaurant to support because of the good work they do for people who are hungry. Just a wonderful little story to end our Headlines today.
---
Public engagement
(now with more details!)
Edmonton's city councillors get back to work after a summer break, wrapping up this term of council before the next break in mid-September for the fall election campaign.
The Community and Public Services Committee meets Monday morning at 9:30 a.m. You can see the agenda online. Topics include: how to offer City services to undocumented immigrants; an update on Edmonton's 2,000 Syrian refugees; and what comes next for MacEwan's big orange building in the west end.
Executive Committee meets Tuesday morning at 9:30 a.m. You can also see that agenda online. Topics include: parental leave for councillors; and the traffic study for the Valley Line LRT's Southeast extension.
Both of those city committee meetings will stream live from the River Valley Room.
If you want to be part of citizen working groups providing feedback on Edmonton's new Valley Line West LRT expansion, check out public meetings this week along various points along the planned route. Tuesday's meeting for the Stony Plain Road section is at the West End Christian Reformed Church.
Why, yes - we do have a newsletter you can sign up for.
Subscribe